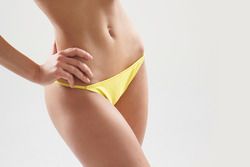 Extensive weight loss, the birth of a child - these are events to be celebrated, but an unfortunate side effect of these happy milestones is often the presence of lax stomach muscles and loose skin that has lost its elasticity and no longer fits the new shape of your body.
It's an issue that can be uncomfortable and leave you feeling insecure, but there are ways to help. The most common procedure in this situation is the tummy tuck, which can vary in extensiveness depending on each patient's need. Dr. Suzanne Yee performs various types of tummy tuck procedures including the extended tummy tuck at her Little Rock plastic surgery practice.
What is an Extended Tummy Tuck?
Abdominoplasty, also known as a tummy tuck, is a procedure that removes loose skin and excess fat from the abdominal area. The procedure also restores stomach muscles that have become lax and separated, a common side effect of pregnancy, thereby giving the patient a more taut and toned look.
In the case of an extended tummy tuck, your plastic surgeon will aim to tighten and refine not only the direct abdominal area, but also adjacent areas such as the flanks and hips (addressing the often problematic "love handles" region).
But while there are several benefits to a tummy tuck, including an extended tummy tuck, the procedure is not to be conflated with liposuction or a proper weight loss regimen. Rather, it should be seen as a way to refine your body once you have reached your weight loss target.
How Does an Extended Tummy Tuck Differ from a Traditional Tummy Tuck?
The difference between tummy tuck procedures simply comes down to the extent of the area to be treated during surgery. While a traditional tummy tuck procedure only addresses loose skin and lax muscle in the abdominal area, an extended tummy tuck reaches further to correct looseness in the hip and flank regions as well.
Along those same lines, patients with minimal loose skin in the abdominal area can benefit from a mini-tummy tuck procedure, while patients with a problem area that extends around to the back may benefit from a full body lift.
Am I a Good Candidate for an Extended Tummy Tuck?
If you are dealing with loose skin and weakened muscles that extend from the stomach to the hips and thighs, you are likely to be a good candidate for an extended tummy tuck. Only your plastic surgeon can tell for sure, and will discuss your candidacy during your consultation. Your plastic surgeon will generally ask that you be in good health to undergo surgery, and that you refrain from smoking, as it can reduce oxygen to your bloodstream and hinder the post-surgery healing process.
In addition, it is important to understand that further pregnancies can undo the effects of a tummy tuck. Because of this, most plastic surgeons will ask that patients have all of the children they intend to have before undergoing a tummy tuck.
Contact Your Board Certified Plastic Surgeon Today
Whether it's children or weight loss, you've already done the hard work. Don't stop now and simply cope with a body you aren't satisfied with - take the next step toward a better and more confident you. Contact the office of Dr. Suzanne Yee to schedule an appointment and discuss your options today.
Related to This