Minimizing Scars after Arm Lift Surgery
By Dr. Suzanne Yee on December 13, 2016
---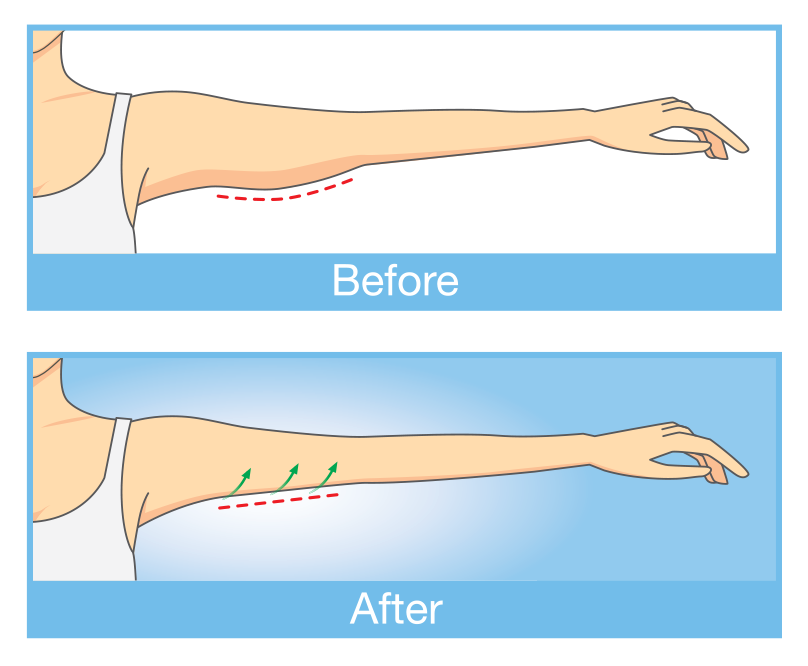 As a person ages, the skin loses its elasticity as less collagen is produced by the body. This results in drooping skin and an overall loss of firmness. The upper arms are commonly affected by loose skin, especially after weight loss.
Loose skin on the underside of the arms can make patients feel self-conscious when wearing short sleeves or tank tops. An arm lift smooths and tightens the skin of the upper arms to restore a more toned, youthful appearance. Dr. Suzanne Yee is happy to discuss the details of the arm lift procedure, and the scars that will develop, with her Little Rock, AR patients.
Arm Lift Incision
During an arm lift procedure, Dr. Yee is able to remove excess fat and tissue to give the arms a slimmer, more toned appearance. To achieve these results, Dr. Yee must make an incision along the inside of the upper arm. The remaining skin and tissue are re-draped to create a smoother, tighter upper arm.
Dr. Yee understands that most patients do not want a noticeable scar along the skin of the upper arm. To make the scar less noticeable, Dr. Yee will create the incision along the inner arm. The vertical incision extends from the underside of the armpit, down toward the elbow.
How Long Will it Take for the Scar to Heal?
It takes quite a while for a scar to heal. During the first few months after an arm lift procedure, it is normal for the skin along the incision to appear bright red. This skin may also be raised.
While the scar is healing, most patients conceal their scar. The location of the incision ensures that the scar should not be noticeable unless a patient has their arms raised.
Patients can be confident that, as the scar continues to heal, the appearance of it will become less noticeable. Within a year after surgery the scar should be a lot lighter in color, and the skin should no longer be raised. This makes it much easier to conceal scarring, even when wearing a short-sleeved shirt or tank top.
Minimizing Scarring after Arm Lift Surgery
Scarring is a natural and unavoidable side effect of arm lift surgery. While there is nothing that can be done to avoid scars, patients can take steps to ensure proper healing and minimize the appearance of remaining scars.
First, it is vital to follow all post-operative care instructions. This will promote healing and help patients avoid infections or other complications that could worsen the appearance of scars. It is also important to wear the provided compression garment as instructed. Patients should expect to keep the arms compressed for about six weeks after arm lift surgery. Finally, there are gels and creams that can be applied to the incision site to assist the skin in healing and minimize the appearance of scars. Dr. Yee can recommend a product that will meet each patient's unique needs.
Schedule an Appointment
If loose, upper arm skin is affecting your confidence, you may be an ideal candidate for an arm lift procedure. To learn more about arm lift surgery, schedule an appointment with Dr. Suzanne Yee at your earliest convenience.
Related to This
Love Dr. Yee! She is very caring and patient, and she answered any questions I had. She has a very knowledgeable and friendly staff as well. Highly recommend her. Best of the best!

Andy A.