One of the newest beauty trends is for women to have a sculpted and defined backside. However, this trend is not a passing fad. Rather, it enhances the natural beauty and curvature of the female figure. When regular exercise does not yield the desired results, a Brazilian butt lift can be an effective solution. This cosmetic body procedure is gaining popularity as the go-to treatment to help women achieve a curvaceous silhouette. Dr. Suzanne Yee in Little Rock, AR, combines her ability to enhance a woman's body with her advanced surgical skill to deliver satisfactory results for all her patients.
What is a Brazilian Butt Lift?
A Brazilian butt lift is a form of augmentation that enhances the shape of and creates lift in the buttocks by harvesting fat from one area, refining the fat, and re-injecting the fat into the treatment area. The Brazilian butt lift is considered the most natural surgical procedure to enhance the rear because it uses fat cells and tissues from your own body.
Who is a Candidate?
The best candidates for a Brazilian butt lift are those patients who have:
Buttocks that are flat in appearance
Small or Sagging buttocks
Overall good health
Healthy blood supply to buttocks
Substantial area for fat harvesting
Traditional vs. Brazilian Butt Lift
There are several types of butt lifts that can help you achieve your cosmetic goals. During a traditional butt lift, Dr. Yee will create incisions in the treatment area. Through these openings, she can remove any sagging skin or excess fat before repositioning the underlying muscles and lifting them to give you a firmer, more youthful rear.
A Brazilian butt lift is minimally invasive. Accordingly, scarring is virtually non-existent and risks are extremely low.
Traditional butt lifts can be an effective option if you do not have enough excess fat on another part of your body to transfer to your rear. However, whenever possible, Dr. Yee recommends Brazilian butt lifts. The procedure is more conservative and does not require open incisions. As a result, you could experience less discomfort and a shorter recovery. Furthermore, a Brazilian butt lift can typically achieve subtler, more natural results while still giving your figure and self-confidence a big boost.
The Procedure
Fat Harvesting and Transfer
At our Little Rock office, Dr. Yee uses LipoSelection to harvest the donor fat from other parts of the mid torso. Dr. Yee's system employs ultrasound energy to break up and emulsify fat, but it leaves nerve tissue, blood vessels, and connective tissue intact. Unlike traditional liposuction, LipoSelection can specifically target fat cells, leaving other tissues unaffected. The most common areas from which to harvest the fat are the stomach, hips, waist, and thighs. The sculpting of these areas not will not only supply the fat for transfer, but it will also create a more sculpted look overall. The fat is then processed and refined for re-injection.
Fat Transfer
Fat transfer into the buttocks offers dual benefits. Dr. Yee removes unwanted fat from one area, and re-injects the fat into the desired area of the buttocks. The injections are typically administered into the upper region of the buttock to help achieve a "lifted" appearance. For optimal results, Dr. Yee advises injecting a substantial amount of fat.
Post-Operative Recovery
Although a Brazilian butt lift will often require less downtime than a standard butt lift surgery, you will still need to set aside enough time for proper healing. You will likely experience some swelling, bruising, and discomfort both in your buttocks and in the area where the original fat was harvested. Mild medications can help to ease inflammation, which should subside within a week.
After surgery, it is also vital that you follow Dr. Yee's instructions. Her guidance can help to prevent complications and provide the best possible results. After your surgery, she will likely place surgical tape to help hold your buttocks in their new positions. You should wear this tape for about two weeks, changing it as instructed. You will also need to wear compression bandages or garments for similar reasons. It is important to get plenty of rest for the first several weeks. Short walks around the house are helpful because they stimulate blood flow and encourage proper healing. However, you should not overexert yourself during this time. You can usually return to work in about a week. You can typically resume regular exercise in approximately three to four weeks, or when advised to do so by Dr. Yee. In addition, you should not use alcohol or tobacco, as these products can compromise healing.
Following a Brazilian butt lift, one of the most important things you can do is avoid sitting directly on your buttocks for about three weeks. This will help to preserve the results of your surgery and minimize the number of fat cells that your body reabsorbs. Whenever possible, you should rest in a reclining position, and you should sleep on your stomach for about six weeks. Of course, after this initial three-week healing period, it may not be possible to lie down at all times. However, there are a number of special cushions that can reduce pressure on your backside.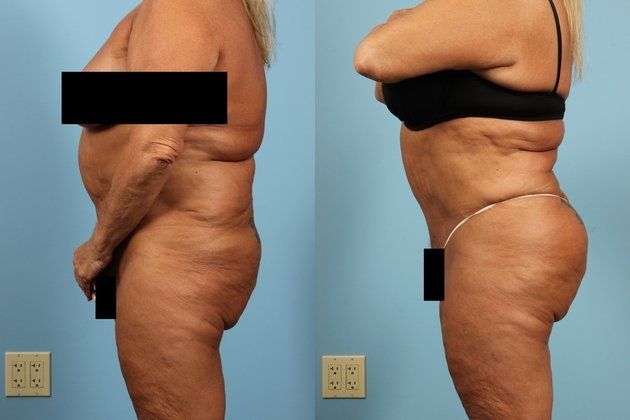 The Benefits of a Brazilian Butt Lift
If you are trying to determine the most appropriate way to enhance your figure, there are a number of reasons to consider a Brazilian butt lift:
Because Dr. Yee can also perform liposuction, this will enable you to enhance another area of your figure at the same time. For instance, you could reduce "love handles" or achieve a flatter tummy, which, in turn, would boost the effects of your butt lift.
A Brazilian butt lift is minimally invasive. Accordingly, scarring is virtually non-existent and risks are extremely low.
Using your own fat cells to enhance your rear can eliminate any chance of an allergic reaction.
This more conservative treatment can still achieve stunning and dramatic results. Your rear could be much more defined, and your overall figure may look more proportionate. Furthermore, as a result of these cosmetic effects, you could enjoy a major increase in self-confidence.
Schedule an Appointment Today
During a consultation, Dr. Yee can help you determine whether a Brazilian butt lift can help you achieve your cosmetic goals. Contact our office online to learn more about LipoSelection, fat transfer, and Brazilian butt lift procedures. You can also speak to a member of our staff by calling (866) 459-0214. We look forward to helping you achieve the contours and curves you have always wanted.