At one time or another, most of us have noticed areas on our bodies that are resistant to weight loss. Any personal trainer will tell you that the only way to lose fat is over the entire body, through proper diet and aerobic exercise. For patients who have tried dieting and exercise, but still have stubborn fatty deposits, surgical body contouring is the most effective solution. At our Little Rock, Arkansas practice, we offer body contouring with ultrasound liposuction. If you are a good candidate for liposuction, Dr. Yee can target localized fatty deposits that diet and exercise can't target or eliminate.
Liposuction involves a small incision near the problem area, where a device called a cannula is inserted and used to suction out stubborn fat cells. Liposuction is an effective way to sculpt problem areas, but at our Little Rock, Arkansas practice, we advise patients that body contouring with liposuction is not a treatment for obesity or a substitute for diet and exercise.
New Liposuction Technology
---
At her Little Rock office, Dr. Suzanne Yee performs ultrasonic liposuction for body contouring purposes using the state-of-the art technology called LipoSelection. With LipoSelection, you can see immediate results.
LipoSelection
At our Little Rock, Arkansas practice, Dr. Yee performs ultrasonic liposuction for body contouring purposes using the LipoSelection system by VASER®. The VASER® system uses ultrasound energy to break up and emulsify fat, but it leaves nerve tissue, blood vessels, and connective tissue relatively intact. Patients who undergo liposelection with the VASER® system at our Little Rock, Arkansas practice report less pain and bruising than those who receive traditional liposuction. The LipoSelection procedure also allows Dr. Yee to shape delicate areas like the upper & lower abdomen, inner thighs, back, arms, chin, & neck with greater precision.
Another advantage of LipoSelection at our Little Rock, Arkansas practice as opposed to traditional body contouring with liposuction is that the VASER® system makes it easier to smooth skin. Traditional liposuction may have a negative impact on tissues that are critical to smooth results, while the VASER® system can specifically target fat cells, leaving other tissues necessary for smoothness intact.
KATV GMAR: Dr. Suzanne Yee on LipoSelection by VASER (2 /11/ 13)
---
LipoSelection targets fat cells specifically, reducing the impact on surrounding healthy tissues.
SmartLipo
SmartLipo is the first laser assisted liposuction procedure. A carefully calibrated laser is used to liquefy fat deposits through the top layers of the patient's skin. The laser energy also interacts with the dermis resulting in collagen shrinkage to help smooth and tighten the skin to decrease the looseness that is sometimes evident with traditional liposuction. There is less swelling, bleeding and bruising than with traditional liposuction, thus promoting a quicker recovery and fewer complications.
VASER Hi Def™
A sculpted, natural, athletic appearance is the end-result of Hi Def Liposculpture achieved by removing superficial and deep fat around muscle groups. Once the fat is removed, the underlying musculature is more visible. It requires advanced training and Dr. Yee is one of 12 surgeons in the country specially trained to perform this aggressive approach to body contouring.
In cases where the patient has a protruding or bulging abdomen, liposuction may be performed in conjunction with an abdominoplasty procedure at our Arkansas office.
Before and After
---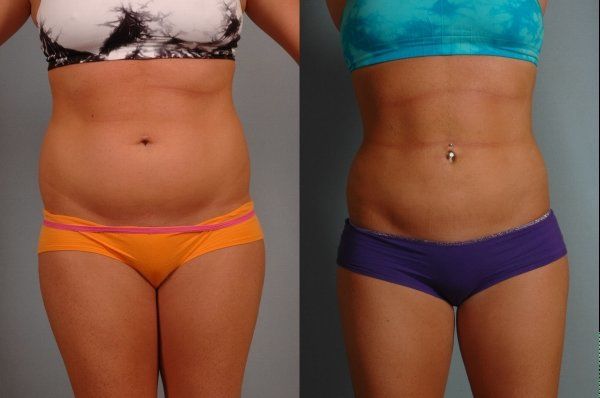 What to Expect Following Surgery
At our Little Rock, Arkansas office, Dr. Yee will have you return a week after surgery for a post-op visit, and then follow your care as needed over the course of twelve months. We also recommend resting for the first few days following liposuction surgery. Most experience some mild swelling, bruising, and tenderness, which should subside in a short time. Much of the discomfort associated with liposuction surgery can be controlled with pain medication prescribed by Dr. Yee. Most patients return to normal activity in 2 to 3 days, and a regular exercise routine in two weeks.
Fat Transfer
Fat transfer is a unique treatment that offers dual benefits. Unwanted fat is removed from one area of the body (usually the thighs or buttocks) using liposuction and transplanted to the face. Many of Dr. Yee's patients feel that fat transfer offers significantly more natural-looking results when compared to facial implants.
We offer financing options, so the cost of liposuction does not have to stand in the way of getting the body contours you desire. Contact us today to schedule a consultation about liposuction options that work for your lifestyle.
Click below for additional weight loss information
H2MD's mission is on treating the root causes of illness instead of just symptoms. Specializing in Functional & Integrative Medicine and Weight Loss
Love Dr. Yee! She is very caring and patient, and she answered any questions I had. She has a very knowledgeable and friendly staff as well. Highly recommend her. Best of the best!

Andy A.