Sagging skin in your midsection after pregnancy or significant weight loss can make you feel self-conscious about your body.
A tummy tuck can restore a lean, firm, and trim midsection, helping you to experience greater confidence in your appearance.
Learn how Dr. Suzanne Yee in Little Rock, AR, can give you the flattering contours you desire...
Beautiful Enhancement
& Natural-Looking Results
A Comprehensive Upgrade
A tummy tuck can address loose skin, separated abdominal muscles, and lingering fat deposits in one treatment.
Minimized Scarring
Dr. Yee
uses sophisticated techniques to make the resulting scars discreet and easy to cover with swimsuits and other clothing.
Contact Our Plastic Surgery Practice

to discover Your Options
"So Happy with My Results!"
After visiting with Dr. Yee staff I knew immediately that I had found the right doctor. Dr. Yee listened to all my concerns and make me feel comfortable. I was even able to talk to some of her staff members that had went through the same process. Great staff and doctor! Thank you Dr. Yee for restoring my confidences!

View On Google
So happy with my results! Dr. Yee was very professional and gave great advice. The surgery went super well, and she was supportive throughout the process. Would highly recommend Dr. Yee, and will personally revisit her! Thanks to Dr. Yee and her staff, I had a successful surgery and fantastic results. Thanks again!

View On Google
Is a Tummy Tuck Right for You?
While a healthy diet and regular exercise can help you lose fat and build muscle, they cannot restore lost skin elasticity. Our skin retains its elasticity only up to a certain point, and it gradually becomes less elastic with age.
The muscle tissue can also become stretched and separated, especially during pregnancy. Dr. Yee can address both loose skin and muscles during a tummy tuck procedure at our Little Rock, AR, practice.
You may be an abdominoplasty candidate if you:
Have had one or more pregnancies.
Have developed drooping skin with age because of a genetic predisposition.
Have lost a substantial amount of weight.
Do not smoke.
Are in good health.
What Can a Tummy Tuck Address?

Excess Skin
Age, pregnancy, and weight loss can contribute to excess skin in the midsection. Surgical treatment is the only effective way to address excess skin. With a tummy tuck, we can tighten wrinkled and loose skin to produce a more toned appearance.
Separated Muscles
The abdominal wall can become loose or separated, resulting in the appearance of a belly pouch. At our Little Rock, AR, practice, Dr. Yee can tighten and suture the abdominal wall back together to flatten the stomach and provide flattering results.
Belly Button Refinement
The belly button can become stretched or displaced as a result of weight gain and pregnancy. During the procedure, the navel can be moved and reshaped for a more aesthetically pleasing appearance that complements a flatter and tighter abdominal area.
Traditional technique: Generally, a traditional abdominoplasty (full tummy tuck) requires a horizontal incision placed between the hip bones.
Extended technique: For more substantial lifting, the incision may need to extend across the entire abdomen and around the hips.
Mini technique: If you require a minimal amount of correction, you may be a candidate for a mini tummy tuck, which results in a smaller scar.
Tummy tuck with LipoSelection: The procedure can incorporate ultrasonic liposuction to remove excess fat, depending upon your goals.
Advanced Techniques

For Improved Comfort and Healing
TISSEEL for Reduced Complications

TISSEEL is a fibrin sealant that can expedite healing and reduce the risk of complications such as seroma.
Exparel for Improved Comfort

Dr. Yee uses special medications in surgery to promote internal healing and help with pain. Exparel is a local numbing agent, and its effects last up to four days. This improves patient comfort without the use of a narcotic.
Advanced Techniques for Less Scarring

Dr. Yee uses advanced techniques to close incisions and minimize scarring for patients of our Little Rock, AR, practice.
The Tummy Tuck Procedure

Dr. Yee
will plan your surgery according to the aesthetic goals that we discuss at our Little Rock practice during your consultation. The entire surgical procedure takes about two to three hours:
Best office staff and doctor combination in Central Arkansas. They all give you the best advice. If it can be done, they explain how. If it cannot be done, they explain why.

View On Google
I have already recommended Dr. Yee to many of my friends. She was amazing and extremely caring during my recovery process and beyond.

View On Google
Schedule a Consultation

with Our Board-certified Plastic Surgeon
Dr. Suzanne Yee is triple board-certified, and she graduated first in her class when she earned her degree from the University of Arkansas for Medical Sciences. Throughout her career, she has performed thousands of plastic surgery procedures, with tummy tuck being one of the most popular. To schedule a consultation at our Little Rock practice, contact us online or call us at:
Side Effects

The side effects of any surgical procedure are typically most apparent for the first few days to a week after treatment:
Pain
Pain is a normal side effect of surgery. To help with any discomfort, Dr. Yee can prescribe oral pain medication. It is best to take pain medication on schedule to prevent unnecessary discomfort, especially in the first few days after surgery.
Swelling

Swelling is also a natural response to surgery. To reduce the severity of swelling, it is important to avoid any type of strenuous activity for several weeks after surgery. You should also stay hydrated and eat a low-sodium diet to reduce swelling.
Bruising
Bruising can persist for two to three weeks after surgery. Bruising starts out as red, and then turns a purple or blue color. As healing progresses, the bruise will turn green and then yellow or brown before fading completely.
Numbness
Patients may experience numbness or loss of sensation in the area surrounding the treatment area as a result of nerve damage. As the nerves heal in the months after surgery, sensation is typically restored.
Itchy or Tight Feeling

As patients heal, it is common to experience an itchy or tight feeling in the treatment area. If itchiness becomes bothersome, you can try taking Benadryl to maintain comfort as you recover from surgery.
View Our Results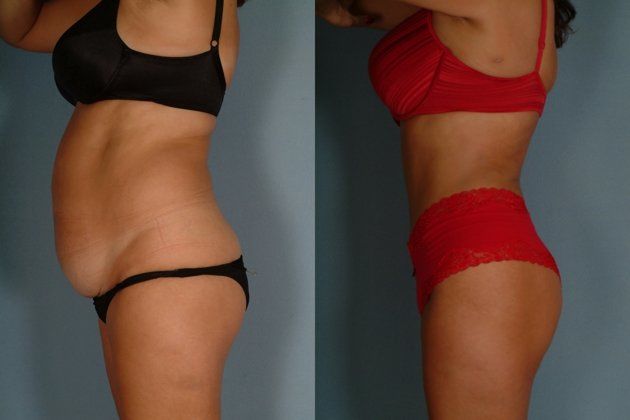 "I Had a Great Experience."
I would highly recommend anyone thinking of having a cosmetic procedure or surgery to check out this office. Dr Yee is a true artist , extremely professional and had amazing before & after photos of the procedures she had previously done . The staff are a wealth of knowledge from the lady at the check in desk to the nurse that took me to the consult room , I even had a consult with their skincare specialist !!!! Overall I had a great experience and I left with my procedure plan and a new skincare regime that was set up specifically for me .....

View On Google
I found Dr Yee to be a very professional plastic surgeon. She is personable and patient answering all my questions. I had skin resurfacing to my face and liposuction under my chin line. I am quite pleased with the service before and after my procedure as well as the results. Thank you Dr Yee!

View On Google
Meet with Our Plastic Surgeon

for a Quote
The cost of a patient's tummy tuck procedure depends on the extent of treatment that is needed. For example, a patient undergoing the mini technique will typically have a lower cost than patients undergoing the extended technique. If additional procedures such as liposuction are performed, the total cost of treatment will increase.
To receive a custom price quote, schedule a consultation at our Little Rock, AR, practice. Contact us online or call us at:
Two Common Types of Candidates
Abdominoplasty after Pregnancy

Pregnancy causes significant stretching of the abdominal skin and muscles, particularly for women who have children at an older age or have multiple children. When the skin fails to move back into shape after women have lost their pregnancy weight, it can result in sagging. In addition, the abdominal muscles often become separated or loose as a result of pregnancy. All of these issues can be addressed with a tummy tuck. Some patients may also wish to undergo additional procedures such as breast augmentation as part of a comprehensive mommy makeover treatment plan.
Abdominoplasty after Weight Loss
For so many men and women who turn to our Little Rock, AR, practice, weight fluctuations have been a constant part of their lives. Unfortunately, gaining and losing weight can contribute to loose and wrinkled skin. If you have successfully lost weight and reduced the amount of excess fat in your body, you may be left with sagging skin on the abdomen. Dr. Yee has experience providing surgical treatment to patients after massive weight loss. She can remove excess abdominal skin that may be preventing you from exercising comfortably and feeling confident about your weight loss.
Scarring: What to Expect

It is normal for patients to be concerned about the appearance of scars after any type of surgery. Fortunately, scarring can be discreet and minimal when you choose a reputable surgeon like Dr. Yee.
Discreet Placement
When performing surgery, Dr. Yee will make sure that any resulting scarring can be hidden with undergarments and bikini bottoms. In fact, the resulting horizontal scar is located several inches below the typical underwear line.
Scar Length
The length of the resulting scar is dependent on the extent of treatment needed. Dr. Yee will make every effort to keep scarring as minimal as possible without compromising your skin tightening results.
Advanced Techniques
Dr. Yee uses advanced and effective techniques that greatly reduce the appearance of post-surgical scarring.
Scar Prevention
Patients themselves play an important role in minimizing the appearance of scarring. To prevent thick, dark scars:
Follow your doctor's instructions to minimize the risk of infection
Don't smoke
Avoid strenuous activity
Use skin products after scars have healed
Avoid exposing scars to sunlight
"Great Attention to Detail."
Great staff, customer service, and attention to detail. Dr. Yee makes numerous follow-up calls to check on her patients and makes absolutely sure they are satisfied.

View On Google
I'm so glad I decided to stop putting off the mommy makeover I've wanted for so many years. Scheduling a consultation with Dr. Yee was the initiation of the journey to a new me. I recommend her to everyone.

View On Google