Restore a Tight, Lean Midsection with a Tummy Tuck
---
If you have sagging skin in your midsection resulting from weight loss or pregnancy, abdominoplasty can restore the attractive definition you desire. Commonly known as tummy tuck surgery, abdominoplasty removes excess skin and fatty tissue from the abdomen and tightens underlying tissues to create tighter, leaner contours. It is important to choose a surgeon whom you can trust for this procedure. Dr. Suzanne Yee is a respected plastic surgeon who can customize a tummy tuck to meet your goals and help you feel confident about your body. To learn how a tummy tuck can help you, please contact our Little Rock, AR, office and schedule a consultation.
Is a Tummy Tuck Right for You?
Abdominoplasty is often recommended to patients who:
Have had one or more pregnancies.
Have lost a substantial amount of weight.
Develop drooping skin with age because of a genetic predisposition.
While a healthy diet and regular exercise can help you lose fat and build muscle, they cannot restore lost skin elasticity. Our skin retains its elasticity only up to a certain point, and gradually becomes less elastic with age. The muscle tissue can also become stretched and separated, especially during pregnancy Dr. Yee can correct these issues during an abdominoplasty procedure.
If you are a candidate for a tummy tuck, Dr. Yee will discuss your abdominoplasty cost before you undergo surgery. We accept CareCredit℠ patient financing, which has low- and fixed-rate interest options.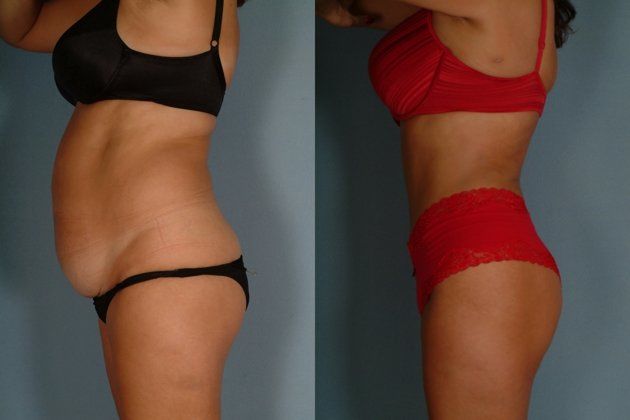 The Tummy Tuck Procedure
Dr. Yee will plan your surgery according to your aesthetic goals. On the day of surgery, Dr. Yee will make markings on your abdomen to indicate where incisions and lifting will occur. She will administer anesthesia to maintain your absolute comfort throughout the procedure.
Surgery begins with a horizontal incision low on your abdomen, several inches below the navel. The length of this incision depends upon the extent of lifting you require. Generally, a traditional abdominoplasty (full tummy tuck) requires an incision that extends between the hip bones. For more substantial lifting, this incision can extend across the entire abdomen to the hips. If you require a minimal amount of correction, you may be a candidate for a mini tummy tuck, which requires a smaller incision.
Through your abdominal incision, Dr. Yee can remove excess fat and skin tissue, and tighten the underlying muscle tissue. The procedure can incorporate liposuction, depending upon your goals. Finally, the remaining skin will be sutured and bandaged.
After Tummy Tuck Surgery
Tummy tuck surgery is performed on an outpatient basis. After a short observation period in our office, you can return home the same day as your surgery. You will need to rest for several days and only engage in minimal physical activity during recovery. To help with any pain or swelling, Dr. Yee can provide you with oral medication. You will return to consult with Dr. Yee within the next week to ensure that you are healing properly. She will provide you with detailed instructions for resuming normal activities.
Contact Us
Dr. Yee's surgical expertise and artistic eye can help you achieve the flattering midsection you desire. Contact Dr. Suzanne Yee's Cosmetic & Laser Surgery Center today to schedule a consultation.
Financing Options Available
Love Dr. Yee! She is very caring and patient, and she answered any questions I had. She has a very knowledgeable and friendly staff as well. Highly recommend her. Best of the best!

Andy A.