When you look in the mirror, do you notice frown lines, crow's feet, or other signs of aging?
BOTOX® Cosmetic injections can minimize fine lines and wrinkles to completely rejuvenate your appearance.
Find out how Dr. Suzanne Yee can dramatically reduce signs of aging in just one visit to our Little Rock, AR, practice.
Undergoing Treatment at Our Practice
To begin your appointment at our practice, we will examine the treatment area and determine where the injections should be placed to preserve your facial expressions and reduce wrinkles. Dr. Yee has a comprehensive understanding of the anatomy of the face, and knows precisely where to inject the solution to achieve natural-looking, optimal results.
We will also determine how much BOTOX is needed to achieve good results. The total number of injections you receive will depend on the size of the treatment area and your aesthetic goals.
Next, we will administer the injections. They are not painful, but you may experience a slight pinch and minimal discomfort at the injection site.
A Top BOTOX Provider
Dr. Yee has received Allergan Black Diamond Status, which means that she is in the top 2 percent of Allergan injectors in the United States. Dr. Yee has also been a BOTOX Cosmetic trainer for Allergan since 2002. She and our staff are fully licensed, and Dr. Yee personally trains each team member to ensure that we provide all patients with the high-quality care that they deserve.
BOTOX Before and After Photos
Achieve a More Youthful Appearance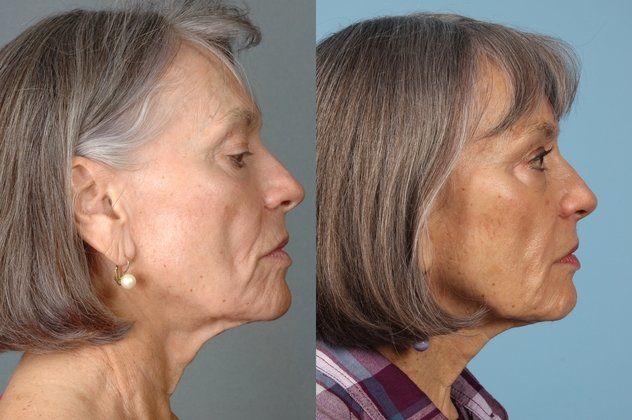 5-Star Google Reviews from BOTOX Patients
"I Have Used Her for Botox... and It Was Life Changing"
After three kids I was looking for a boost in my confidence to get a breast augmentation. I did my research on most of the surgeons in Arkansas and after careful consideration and recommendations I found doctor yee. I made the two hour drive for consult and I knew it was the perfect fit... My before and after results are beautiful and I have minimal scarring. I have used her for Botox as well and it was life changing. I wouldn't ever go anywhere else! She's definitely the best.
View on Google
Dr. Yee helped me with my excess scalp sweating by injecting Botox. I had read about this online and she was willing to do it. What a great success this was!! I recently saw her for the second time to repeat the process. My children are getting married in the summertime and I don't want to be a sweaty mom at the wedding receptions!! Thanks so much Dr. Yee for helping me be the best I can be!!
View on Google
Excessive Sweating
Patients who struggle with excessive sweating can receive BOTOX injections in areas that experience more sweating than normal. BOTOX treatment temporarily blocks nerve impulses to the injected areas, which subsequently reduces sweating and leaves you feeling dry and confident.
Facial Reshaping
BOTOX Cosmetic can be injected to improve facial definition. One method that is gaining popularity is jaw reduction. By relaxing the chewing muscles, Dr. Yee can effectively slim the face. The injectable can also be used to create a pleasing v-shape, making the face appear more youthful.
How Much Does BOTOX Cosmetic Cost?
BOTOX typically costs $14 per unit at our Little Rock practice. However, we run monthly specials so patients can undergo treatment at a reduced price. In addition, we have a loyalty program that allows you to earn points and save on certain Allergan products like BOTOX, JUVÉDERM®, and Latisse®.
What Causes Facial Wrinkles?
There are dozens of muscles in the face; they allow you to make a nearly limitless range of expressions and facial movements. Over time, repeated contractions can crease and line the face. More specifically, when you frown, squint, and smile, the tissue underneath the forehead and eyes contract, causing your skin to furrow and wrinkle.
How Does BOTOX Cosmetic Work?
Like Xeomin® and Dysport®, BOTOX Cosmetic contains botulinum toxin, which temporarily paralyzes the muscles that cause wrinkles. By reducing or eliminating the repeated contractions that cause crow's feet and frown lines, this cosmetic treatment can produce smoother, firmer-looking skin.
What Are the Benefits of BOTOX?
BOTOX Cosmetic injections are safe, simple, and effective. The treatment requires no downtime and produces predictable results. In fact, many of our patients visit our office over their lunch break or while running errands.
What Are the Side Effects of BOTOX Treatment?
In the hands of a trained professional, the side effects of botulinum toxin injectables are typically minimal and subside within a few days. Patients may experience slight discomfort, sensitivity, swelling, or bruising.
How Soon Will I See Results?
Results are not immediately apparent, but you can expect to see optimal results three to four days following treatment. The full outcome is usually fully visible two weeks after the injection appointment. Once the injections are fully effective, BOTOX patients can enjoy a more youthful and alert appearance.
How Long Do Results Last?
Your cosmetic results should last anywhere from three to six months. Treatment may be repeated to achieve and maintain your desired results.