Breast Augmentation Little Rock, Arkansas by Dr. Suzanne Yee
---
At our Little Rock, Arkansas practice, breast augmentation or enlargement, is one of the most commonly performed cosmetic procedures today. The procedure is ideal for enhancing small breasts or breasts that have decreased in size following pregnancy, and it can create symmetry in cases where the breasts are different sizes. Breast augmentation offers several benefits to the right patients.
During your consultation with Dr. Yee at our Little Rock, Arkansas practice, you will be treated with discretion and respect and made to feel comfortable in warm surrounds and professional staff. When consulting with Dr. Yee, you will discuss your goals and expectations of breast augmentation surgery and determine whether you are a good candidate for this type of breast sugery. Dr. Yee is known for honesty during consultations, because she wants you to be happy in the end. She will show you before-and-after photographs of patients with similar breasts, and you will experiment with different implants in a bra to give you an idea of the size that would be the perfect fit for you.
Breast augmentation can give patients' body better balance. At her Little Rock, Arkansas office, Dr. Yee strives for a natural appearance that will make the patient feel great about herself.
Breast Enlargement Surgery Options
At our Little Rock, Arkansas office, breast augmentation is performed on an outpatient basis using general anesthesia. The procedure generally takes about one hour, in which Dr. Yee will place the implant through a small incision. Dr. Yee can help determine the best implant type and incision option during your consultation. The two most common types of implants are saline and silicone. Saline implants are filled with saline liquid and silicone implants are filled with a gel like substance. Either of these implants comes in many sizes and profiles to fit different body types. Another option that will be decided during the consultation is placement of the implant, over or under the muscle, and Dr. Yee will suggest which option will be best for you.
Allergan Black Diamond Status
Dr. Suzanne Yee is a member of the Allergan, Inc. Black Diamond Status. The prestigious award recognizes leaders in the field of cosmetic surgery who demonstrate commitment to innovation, excellence, and the highest level of patient care. Only the top 2% of physicians in the country receive Black Diamond Status - and Dr. Yee is one of the few recipients in Arkansas.
KELLER FUNNEL™
Dr. Yee is also a "KELLER FUNNEL™ Certified Physician", and uses the KELLER FUNNEL™ on many of her silicone breast augmentation cases. The KELLER FUNNEL™ is a cone-shaped, nylon device that allows your surgeon to use a no-touch delivery technique, which is believed to reduce infection complications.* Traditional methods of inserting pre-filled, breast implants involved pushing the implant through a small incision, which can cause damage to both the patient's tissue and the implant's shell. Now with this advancement, Dr. Yee can insert the tip of the KELLER FUNNEL™ into a smaller incision, and guide the implant into place without strain and disturbance to surround tissue. By limiting contact with skin and breast tissue, infection and bruising will be limited as well. During your consultation, please ask Dr. Yee if the KELLER FUNNEL™ is right for you.

Benefits of the KELLER FUNNEL™
Minimizes incision length
Decreases bruising and post operative pain
Allows for less force used during surgery
Decreases infection risk
Dr. Suzanne Yee on the Keller Funnel Breast Implant Device (4/8/13)
---
Rapid Recovery Method
Dr. Suzanne Yee wants all her breast augmentation patients to experience the most comfortable recovery, and have as little down time as possible. The Rapid Recovery Method is a recently developed form of breast augmentation which gives breast augmentation patients the ability to return to normal activity within 24 hours of surgery. During breast augmentation procedures, the muscle is divided and stretched to create a pocket for the implant. The condition of the breast muscle after a breast augmentation is much like a sports injury to a leg muscle. When a muscle is injured, torn, or stretched during sports, the most common path to recovery is physical therapy.

The Rapid Recovery Method consists of an advanced procedure technique, alternate pain management, and immediate physical therapy. At our Little Rock, Arkansas office, Dr. Yee has perfected a surgical technique that causes less trauma and inflammation to the breast muscle. This method is so gentle, that many patients find they do not need strong pain medications and can recover with only the use of non-narcotic analgesics. Since there is very little postoperative pain, the patient is able to practice specialized arm and chest exercises almost immediately after the procedure. The combination of brisk arm and chest movements stimulates repair of the damaged muscle and significantly decreased recovery time.
What to Expect Following Surgery
At our Little Rock, Arkansas office, Dr. Yee will have you return the day after surgery for a post-op visit, and then follow your care as needed over the course of twelve months. A post-surgical sports bra-like garment is usually recommended for several weeks. We also recommend resting for the first few days following breast augmentation surgery. Most women experience some mild swelling, bruising, and tenderness, which should subside in a short time. Much of the discomfort associated with breast surgery can be controlled with pain medication prescribed by Dr. Yee. Most patients return to work within a few days, and resume normal activity in two to three weeks.
The final results of your breast augmentation may not be apparent until as much as a year following your surgery. During this time, your implants will naturally settle lower on your breasts and begin to look more natural.
Breast Augmentation with Saline Implants
---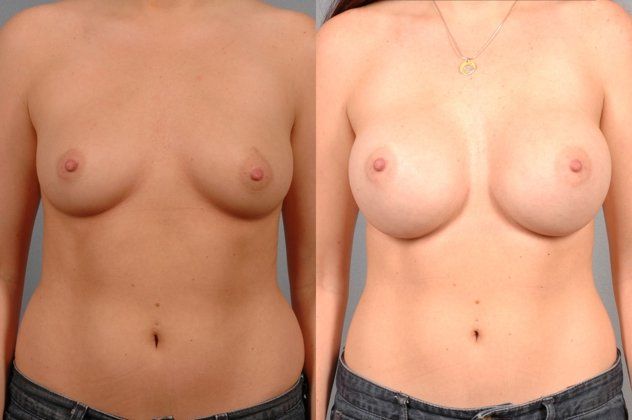 Patient Testimonial
---
"Thank you for such a wonderful experience. Your nurses and you made this surgery simple for me. It was an all around pleasant experience."
For a limited time only!

Contact the Practice of Dr. Suzanne Yee
An expertly performed breast lift, with or without breast implants, can be the key to newfound confidence and lasting self-esteem. Contact the practice of Dr. Yee in Little Rock, Arkansas today to schedule a consultation for breast augmentation surgery, and learn more about the cost of your treatment. We look forward to hearing from you.
Financing Options Available
Dr. Suzanne Yee and her staff treat many patients from outside the Little Rock, Arkansas area. Now offering Internet consultations, Dr. Suzanne Yee allows you the opportunity to seek her professional opinion from the comfort and privacy of your home. Click here to learn more.
* (1) Adams, WP (January 2009) "Capsular Contracture: What is it? What causes it? How can it be prevented and managed?" Clinics in Plastic Surgery
(2) Mladick, RA (1993) "No Touch submuscular saline breast augmentation technique" Aesthetic Surgery Journal
(3) Wiener, TC (March 2008) "Relationship of incision choice to capsular contracture" Aesthetic Surgery Journal
Love Dr. Yee! She is very caring and patient, and she answered any questions I had. She has a very knowledgeable and friendly staff as well. Highly recommend her. Best of the best!

Andy A.