Breast Lift with or without Implants
With childbearing, weight fluctuations, and the passage of time, the breasts naturally begin to sag. Breasts that were once perky and youthful eventually hang lower on the chest, changing in both shape and size. Though this is a natural process, many women begin to feel self-conscious as their breasts change. Dr. Suzanne Yee of Little Rock, Arkansas performs breast lift surgery, often with implants, to help suitable candidates feel better about their bodies and improve their self-esteem.
Video: Ruby's Story – Breast Lift
The Breast Lift Procedure
Breast lift surgery involves trimming away excess skin and tissue from beneath the breasts and repositioning at a higher point on the chest. Conventional breast lift surgery requires an anchor-shaped incision running from the bottom of the nipple vertically to the base of the breast and along the breast crease. At this incision site, Dr. Yee removes excess skin and tissue before moving the nipple to a more natural location on the reshaped breast. In some cases, liposuction is useful for finely sculpting the tissue around the breasts.
After a breast lift, patients need to rest at home for about a week, avoiding bending over and otherwise straining the chest. Most patients wear a support bra for several weeks after surgery. Swelling and bruising should be expected, sometimes lasting a month or more. Heavy lifting and strenuous exercise should be avoided for at least six weeks.
Incredible Results
Following Breast Lift Procedure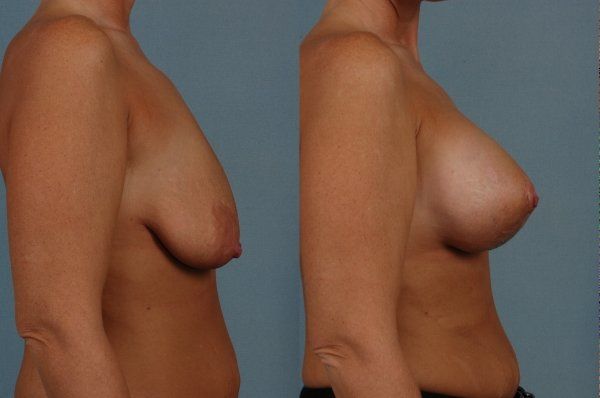 Combining Breast Lift with Implants
Many of Dr. Yee's Little Rock, Arkansas-area breast lift patients choose to have breast implants placed during the surgery, effectively combining the breast lift and breast augmentation procedures. Women who breastfeed or lose massive amounts of weight often experience a decrease in the volume of their breasts. Breast implants allow such women to return their breasts to their proper size and position.
Each woman's goals for breast size, shape, projection, and position are different. Breast implants of different sizes, shapes, and materials can be positioned in different ways to come as close to creating the ideal breasts for each patient as possible.
Dr. Yee's ultimate goal is to help her patients achieve the body shape they desire so that they will feel more secure in their appearance. To this end, she works closely with each patient to plan a breast lift procedure that is customized to her unique requirements. Though not every patient who visits Dr. Yee in Little Rock, Arkansas for a breast lift chooses breast implants, this is a very popular option, and Dr. Yee possesses both the experience and artistry needed to produce beautiful breast lift results with implants.
Contact the Practice of Dr. Suzanne Yee
An expertly performed breast lift, with or without breast implants, can be the key to newfound confidence and lasting self-esteem. Contact the practice of Dr. Yee in Little Rock, Arkansas today to schedule a consultation for breast lift with implants. We look forward to hearing from you.
Financing Options Available