Get Beautiful Results by Combining Breast Lift with Implants
A breast lift can be a great way to gain a more youthful figure. However, a breast lift on its own will not increase the size of the breast or replace lost volume. Patients who choose to combine breast lift with implants at Dr. Suzanne Yee's Little Rock practice can achieve even more comprehensive results than a stand alone lift procedure. Dr. Yee creates beautiful proportion and pleasing results by expertly combining these two cosmetic breast enhancements. Known for her excellent work and artistic aesthetic, Dr. Yee takes great pride in helping her patients gain positive, life-changing results. To schedule a consultation, contact Dr. Yee today.
Candidates for Breast Lift with Implants
Breasts naturally begin to sag over time. Pregnancy, nursing, loss of skin elasticity, and gravity are common factors that alter the shape of the breast and turn it downward. A breast lift removes excess skin and tightens the surrounding tissue to achieve a perkier, more youthful appearance. Candidates for a breast lift with implants are the same patients who would benefit from a breast lift, but cannot achieve the contour they desire with a breast lift alone. Good candidates are those women who would like to add volume to their breasts and also have one or more of the following:
Nipples that fall below the breast crease
Areolae that have stretched out of proportion to the breasts
Nipples or areolae that point downward
One breast lower than the other, or different sized breasts
Difficulty finding clothes that fit well and are flattering
Women who are candidates for breast lift with implants should also be in good general health, and have realistic expectations of the results of their treatment.
Benefits
A breast lift by itself cannot round out the upper chest and is unlikely to give you cleavage. By the same token, breast implants by themselves cannot provide the benefits of a lift. A lift with implants, however, can add curves and restore proportion, boosting your overall figure. After the procedure, you can expect to see a noticeable improvement in breast shape, projection, firmness, and symmetry. You are likely to feel more comfortable in and out of clothes, and more self-confident.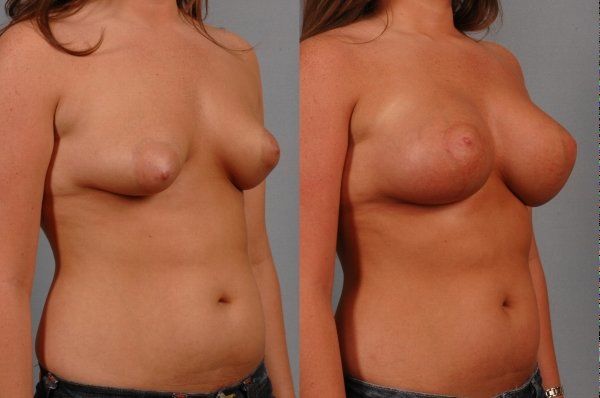 Risks
Every year, thousands of women undergo successful breast lift surgery with implants, experience no major problems, and are pleased with the results. However, as with any major surgery, there are some risks including bleeding, infection, changes in nipple or breast sensation, and anesthesia risks. However, breast lift with implants is generally considered a safe and effective procedure.
Minimizing Your Risk
If you are considering cosmetic surgery, it is very important to carefully choose your plastic surgeon. To minimize risk and ensure that you receive the highest quality care, you should select a highly reputable plastic surgeon with extensive experience. Dr. Yee is a board-certified cosmetic and reconstructive surgeon with a reputation for her skill as well as for caring deeply about her patients. She is the recipient of a long list of honors and awards for her work and achievements and serves on several advisory committees in her industry.
Contact Us
If you would like to learn more about how you could benefit from a breast lift with implants, contact us. Dr. Yee can answer your questions during a personalized consultation.