Is Breast Reduction Right for You?
Excessively large or disproportionate breasts can cause a host of problems, including back and shoulder pain, in addition to self-consciousness. At our Little Rock, Arkansas office, Dr. Yee performs breast reduction surgery to address these problems.
At our office in Little Rock, Arkansas, Dr. Yee performs breast reduction using traditional surgical techniques or through tumescent liposuction, depending on the needs of each patient. Although breast reduction through tumescent liposuction is the preferred method, Dr. Yee may suggest that traditional surgical techniques be used for some patients to ensure maximal benefits and an optimal outcome. When surgical techniques are used, Dr. Yee makes every effort to ensure that incisions are minimized and placed in inconspicuous areas so that any resulting scars are virtually unnoticeable.
What Are the Benefits of Breast Reduction with Tumescent Liposuction?
Other types of breast reduction surgery can take as long as eight hours, require several days in the hospital, and come with a variety of additional risks, followed by extensive recuperation, significant pain, and visible scarring. With the tumescent liposuction technique, Dr. Yee can reduce breast size with very little visible scarring. The procedure can be completed in less than three hours while the patient is under general anesthesia. Patients can return home the same day with only minimal discomfort. Some patients resume work in one or two days and are back to full activity within a week or two.
How Does Tumescent Liposuction Work?
At our Little Rock, Arkansas office, breast reduction with tumescent liposuction begins with a large volume injection of a local anesthetic solution into the breasts. Dr. Yee then "melts" the fat with ultrasound and removes tissue with a suction instrument called a cannula. This allows her to recreate a breast of the desired size.
Achieving the Results Your Desire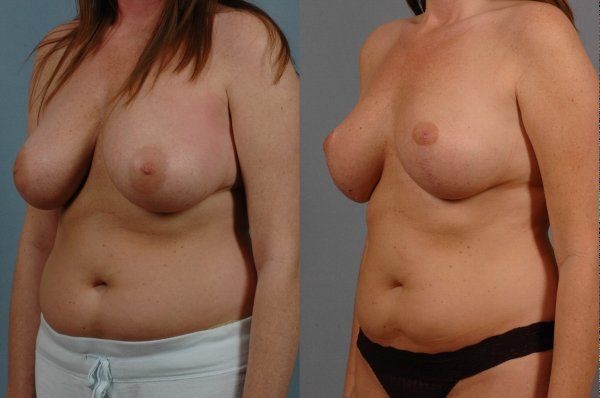 What to Expect After the Breast Reduction Surgery
Most patients experience minimal discomfort following breast reduction surgery. Patients who undergo tumescent liposuction generally remain at our Little Rock, Arkansas practice for an hour or so in order to recover. Recovery may take longer for patients who undergo breast reduction with traditional surgical techniques. Dressings are worn for the first day or two.
Patients are encouraged to resume normal activities as soon as they feel up to it. The results of breast reduction surgery are usually permanent, but breast size may still change due to weight gain or pregnancy. As with any surgery, risks are involved. Dr. Yee will discuss the risks and complications that are possible during and after breast reduction surgery.
If you are unhappy with the appearance of your breasts and would like to discuss your aesthetic goals, contact Arkansas cosmetic surgeon Suzanne Yee, MD and schedule your personal consultation today.
Financing Options Available