Chin Surgery Can Improves the Definition of the Chin and Jawline
Chin surgery, or mentoplasty, reshapes the jawline and lower part of the face to improve proportions and symmetry. Dr. Suzanne W. Yee's expertise in anatomy and physical aesthetics ensures that, whether using implants or fat grafting, patients can achieve beautiful, natural-looking results and long-term satisfaction. Dr. Yee is ready to help you determine which type of chin surgery is right for you during a consultation at our Little Rock, AR, office.
Types of Chin Surgery
Chin Augmentation
Chin augmentation increases the projection and balance of your facial features through the use of implants. The implants are generally silicone-based, and have a very natural appearance.
This outpatient procedure, performed with general or local anesthesia, may take two or more hours depending on whether you choose to combine your mentoplasty with another procedure. Dr. Yee will either make incisions on the underside of the chin, or inside the mouth between your gums and lower lip to minimize visible scarring.
Chin surgery (or non-surgical augmentation) can significantly improve the contours and symmetry of your face.
She will then insert the implant or grafted tissue through the incision and mold it to your facial proportions. Once in place, the incisions are sutured closed.
Chin Sculpting
If you have a poorly defined chin as a result of excess fat beneath the chin or around the neck, Dr. Yee may recommend liposuction or a neck lift to improve your profile and eliminate the double chin effect. This relatively quick procedure leaves no visible scars and can have a big impact on your appearance.
If you have poor definition as a result of loose, sagging skin in the neck and along the jawline, a neck lift can also eliminate the excess skin for better definition and shape.
Non-surgical Options
If you want the benefits of chin augmentation but prefer non-surgical options, Dr. Yee also offers a variety of injectable fillers. Although dermal fillers do not provide permanent results the way an implant or fat graft would, they can still enhance your chin profile and fill in lines or wrinkles for as long as six to 12 months or more, depending on the filler.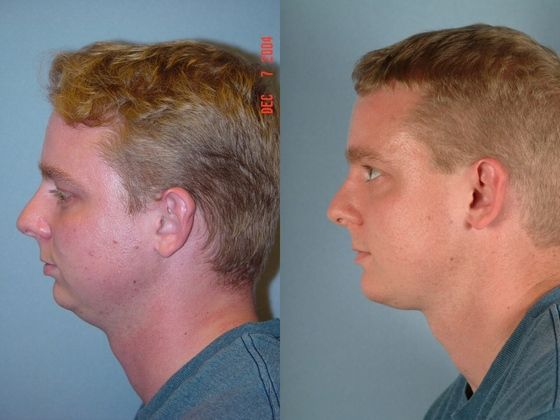 Are You a Good Candidate?
If you are dissatisfied with your profile because of a poorly defined chin, you may be a good candidate for chin surgery. Since the chin typically does not stop growing until around age 20, Dr. Yee usually recommends waiting until growth has stopped before undergoing chin augmentation. You can also minimize your risk of infection or other complications if you are in good physical health.
If you are considering a non-surgical option, please inform Dr. Yee of any allergies you have, especially allergies to collagens or animal products, so she can recommend the safest, most effective injectable filler for you.
Beautiful, Long-lasting Results
Both chin surgery and non-surgical augmentation can significantly improve not just the contours and symmetry of your face, but also your self-confidence. By combining your chin augmentation with another procedure, such as a facelift, you can experience even more dramatic results.
Contact Us
If you want to improve your appearance with a well-defined chin and balanced facial features, we can help. To learn more, or to schedule a consultation with Dr. Yee, contact our cosmetic and laser surgery center today.