As we age, the skin on our face and neck begins to loosen. This often leads to "crow's feet" at the corners of the eyes, forehead creases or folds, "jowls" below the jaw line, and folds in the skin of the neck. Various forms of facelift surgery, or rhytidectomy, exist to safely and effectively address these problems.
At our Little Rock, Arkansas practice, we believe all facelift patients should be in good health and have realistic expectations for surgery. An understanding of rhytidectomy's limitations, and a patient's psychological stability prior to surgery is crucial. The goal of rhytidectomy is not to create an "ideal" face, but rather to provide natural-looking improvement to the existing face. Many factors can influence the strategy and outcome of facelift surgery, including skin type, ethnic background, degree of skin elasticity, and basic bone structure.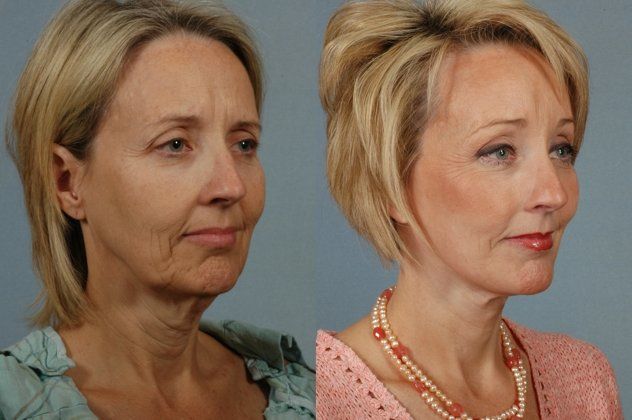 A good rapport between patient and surgeon is critical to the success of any cosmetic procedure. During your consultation at our Little Rock, Arkansas plastic surgery center, Dr. Yee will discuss the facelift procedure in detail, with the goal of keeping you fully informed about all stages of surgery and recovery.
Dr. Yee may also suggest additional surgery to the chin and neck area to improve the overall effect of the facelift. Many patients decide to have facial liposuction to remove excess fatty deposits in conjunction with rhytidectomy. At our Little Rock, Arkansas plastic surgery center, Dr. Yee will first attempt to understand your facelift goals, and then use her training and experience to determine the best course of action.
Choosing a Facelift
As with any procedure, finding a qualified, board-certified surgeon is of the highest importance. Dr. Suzanne Yee has treated many types of patients and has been in practice long enough to weigh risk factors that may affect the outcome of the surgery. At our Little Rock, Arkansas plastic surgery center, we prefer to leave nothing to chance, and all facelift candidates are thoroughly examined. Dr. Yee takes a detailed medical history from each patient, noting factors such as high blood pressure, tendency to scar, smoking, and blood clotting. She also assesses each patient's mental and emotional attitudes toward the surgery, because realistic expectations are crucial to achieving satisfaction with results.
Understanding the Surgery
To begin the rhytidectomy surgery, Dr. Yee makes an incision in the temple area, behind the hairline, just above and in front of the ear. The incision continues around the lobe, circling the ear before returning to the point of origin in the scalp. For men, the incision is aligned to accommodate the natural beard lines. In all cases, the incision is placed in a location where it will be inconspicuous or hidden by a natural crease in the skin.
After making the incision, the skin is raised outward, allowing Dr. Yee to reposition and tighten the underlying muscle and connective tissue. At this point, Dr. Yee may remove some fat and excess skin. Dr. Yee then closes the incisions with fine sutures and/or metal clips, which permit surgery without shaving hair from the site of the incision.
At our Little Rock, Arkansas plastic surgery center, the facelift procedure can be performed with general anesthesia (including mini facelift), or a combination of mild sedatives, local anesthesia, and a mild intravenous anesthesia. In either case, Dr. Yee tries to ensure that the patient will experience little discomfort. Following the surgery, Dr. Yee will apply a dressing to protect the areas where the incisions have been made. The entire process can take up to four hours, depending on the extent of the surgery.
What to Expect After the Surgery
Most of our facelift patients experience very little pain after their procedure; nevertheless, Dr. Yee will generally prescribe pain medication following surgery. Some degree of swelling and bruising is inevitable. The dressing covering the incisions is generally removed within a day or two.
Recovery usually takes two to three weeks, though many patients go back to work in two weeks. Scars are usually not noticeable once they have been allowed to mature. Bear in mind that the aging process continues after surgery and that some relaxation of tissues will occur during the first few weeks.
We hope the rhytidectomy information we have provided here has been helpful. If you have additional questions or wish to schedule a consultation, please contact our Little Rock, Arkansas plastic surgery center.
If you would like to learn more about facial rejuvenation at our Little Rock, Arkansas plastic surgery center, contact Dr. Suzanne Yee, M.D. today.