Achieve Fuller, More Feminine Lips with Lip Augmentation
Full lips are a hallmark of youth and beauty. Lip augmentation adds volume to thin or disproportionate lips to create a more balanced, feminine appearance. Lip augmentation can be done in a variety of ways, including dermal filler injections, fat transfer, collagen injections, and lip implants. Dr. Suzanne Yee is a skilled cosmetic surgeon with many years of expertise in lip augmentation. Dr. Yee is technically precise and has a keen artistic eye. When you receive lip augmentation at Dr. Yee's Little Rock office, you can expect beautiful, natural-looking results. Contact us to schedule a consultation today.
Types of Lip Augmentation
The method of lip augmentation Dr. Yee will recommend depends on the thinness of your lips and the type of look you want to achieve. Popular lip enhancement methods include:
Collagen Injections: Collagen injections can be used for a variety of cosmetic purposes, including lip augmentation. Collagen is naturally found in our bodies, and adds volume and contouring to our skin. As we age, collagen production naturally decreases. Dr. Yee uses collagen injections for some lip augmentations to create a naturally enhanced smile.
Perlane® Injections: Perlane® is a type of dermal filler made with hyaluronic acid. This concentrated material is used to treat deep wrinkles and folds, and can also add youthful volume to your lips.
Restylane® Injections: Restylane® is another hyaluronic acid filler that can be used to plump lips. With results lasting up to six months, Restylane® is a great minimally invasive enhancement option.
Fat Transfer: Fat transfer is a natural way to enhance the volume and shape of your lips. After they are harvested from another area of your body, such as your buttocks or thighs, your own fat cells will be cleaned and injected into your lips to achieve your desired fullness.
For the right patient, Dr. Yee may recommend silicone lip implants. These biocompatible implants can create long-lasting fullness and and contour, and are inserted through small, hidden incisions around the mouth.
Before and After:
Lip Augmentation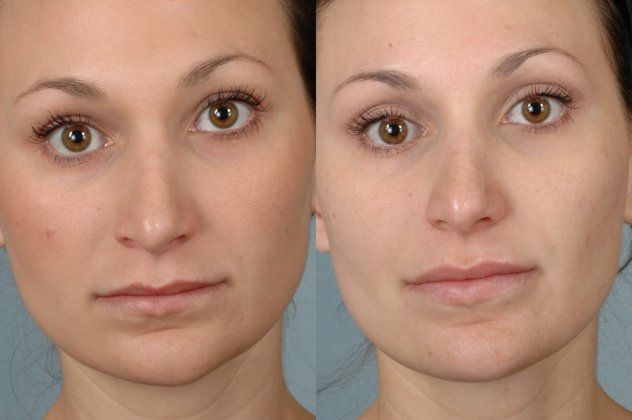 What to Expect
No matter which type of lip augmentation you choose to undergo, Dr. Yee can ensure your results will look completely natural. Dr. Yee has years of experience determining the best lip augmentation methods for different facial structures. Whether you want a more pouty, feminine look or simply want more volume and fewer fine lines in your lips, she can help.
After lip augmentation, patients may experience light bruising, redness, or swelling. These side effects usually dissipate within a week or so following surgery. Once your results have become fully apparent, our patients report increased confidence in their appearance.
Benefits of Lip Augmentation
Lip augmentation is a safe, effective way to create a substantial, yet natural-looking difference in your appearance. Treatment benefits include:
Enhanced confidence
A more youthful, feminine appearance
Easy recovery and fast-acting results
Minimally invasive treatment that usually lasts less than an hour
Several augmentation methods to meet your unique needs
Our team can help you further understand the benefits and risks of this procedure before you undergo any treatment.
Contact Us to Learn More
To learn more about lip enhancement and whether it is right for you, contact our office and schedule an appointment today.