Are wrinkles and sagging skin making you lose confidence in your appearance?
Our state-of-the-art lasers can tighten your skin and effectively prevent and reduce several signs of aging.
Dr. Suzanne Yee in Little Rock, AR, is experienced in using laser treatment to restore a youthful, glowing look for her patients.
Ready To Reduce Your Wrinkles?
Contact Us About Laser Skin Tightening
Laser skin tightening is a minimally invasive procedure that heats the collagen layer of your skin. When the collagen is heated, it constricts making the skin tighten and reduce the signs of aging. Contact our Little Rock, AR, practice to learn more and request your laser skin tightening consultation.
The Benefits of Laser Skin Tightening
Whether you are tightening your facial features or other problems areas, laser skin tightening has many benefits.
Safe
Laser skin tightening is a relatively safe procedure with minimal risk of complications and side effects.
Quick
The procedure typically only takes between 30-90 minutes. This laser treatment requires virtually no downtime, so you can quickly resume your daily activities.
Simple
Laser skin tightening is a simple procedure that requires no anesthesia. Unlike a facelift, laser skin tightening does not require any incisions to achieve life-changing results.
Effective
The results of skin tightening treatment can be seen immediately after your first procedure and will become more apparent over time. After your laser treatment, you will look refreshed and experience a boost in confidence.
Want to Reduce or Prevent Signs of Aging?
Contact Our Little Rock, AR, Practice
Dr. Yee is a top cosmetic surgeon in Arkansas who has been practicing for over 20 years. A triple board-certified plastic surgeon, she prides herself on creating life-changing results and improving the confidence of all her patients. She combines her experience, skill, and passion to create customized treatment plans that provide the best possible results.
If you're ready to eliminate fine lines and wrinkles and boost your confidence, contact our Little Rock, AR, practice to request your skin tightening consultation.
Beautiful Results, Boosted Self-Esteem
"Thank you Dr. Yee for restoring my confidence!"
After visiting with Dr. Yee staff I knew immediately that I had found the right doctor. Dr. Yee listened to all my concerns and made me feel comfortable. Great staff and doctor! Thank you Dr. Yee for restoring my confidences!
View On Google
This is the place to get all your beauty maintenance! The staff is extremely welcoming and knowledge. Dr. Yee always does an amazing job with any procedures you need done.
View On Google
What Areas Can Laser Skin Tightening Correct?
Anywhere There Is Loose Skin
Our customized laser procedures can be used on any area where there is loose skin. However, the most popular treatment areas are the face, neck, jaw, torso, and stomach.
Types of Lasers We Use
To Create Dramatic Anti-Aging Results
Era Elite by aerolase
The Era Elite is a major step forward in laser skin rejuvenation and prejuvenation. Offering the benefits of laser skin resurfacing as well as preventative skin care, the Era Elite can address common fine lines and wrinkles while keeping your skin smooth and supple for many years to come.
The safe and precise 300-microsecond laser allows for pinpoint ablation of the topmost layer of the skin (the epidermis) without damaging the healthy layer of skin beneath it (the dermis). The Era Elite reduces treatment downtimes while also eliminating excess bleeding and oozing after the anti-aging procedure is complete.
NeoSkin by aerolase
NeoSkin offers advanced skin rejuvenation and prejuvenation benefits. In addition to laser skin resurfacing and prevention of wrinkle formation, the NeoSkin can tighten loose and drooping skin. Using a safe and accurate 650-microsecond laser, NeoSkin targets those unwanted lines and wrinkles as well as other common problems that affect the surface of the skin.
But NeoSkin goes a step beyond. The laser energy also targets the water in the dermis. This helps stimulate collage production, which gives the skin a tighter, suppler, and more youthful appearance and texture. After recovering from treatment, NeoSkin patients achieve a natural-looking glow.
What To Expect
During Your Skin Tightening Procedure
Before your treatment, you will come to
our Little Rock, AR, office
for a consultation with
Dr. Yee
. She will assess your aesthetic goals and your health history to create a customized treatment plan that will meet your needs.
This is a same-day procedure that can be completed in as little as 30 minutes.
Ready To Rejuvenate Your Skin?
Contact Our Little Rock, AR, Practice
Each patient has their own aesthetic needs. That is why our experienced plastic surgeon creates a customized treatment plan for every patient to produce the best results. Dr. Suzanne Yee and our entire Arkansas-based team put your needs first. We take pride in making your experience with us as comfortable as possible.
Contact our Little Rock, AR, office to request your skin tightening consultation.
We Make Our Patients Our Priority
"I have never had a bad experience at Dr. Yee's office."
Dr. Yee is AMAZING. I have never had a bad experience at Dr. Yee's office. Her and her team are very professional. Every one there always made me feel very comfortable and answered every question that I had. Dr. Yee was always available to reach after my procedure which made me feel very good.
View On Google
The staff are very knowledgeable, personable and kind. Dr. Yee herself is thoughtful, caring, honest and detail oriented. The exact things you want in your provider.

I have absolutely loved getting my care from Dr. Yee and her staff. I definitely plan to return in the future and would 100% recommend them to others.
View On Google
Are There Any Risks
To Laser Skin Tightening?
There is little risk to laser skin tightening, especially when performed by a triple board-certified cosmetic surgeon like Dr. Yee. You may experience some redness and swelling following your procedure. Symptoms of tingling, scarring, and changes in skin color are rare. Contact our Little Rock practice if you are showing symptoms of any adverse side effects.
More Incredible Transformations
Beyond Skin Tightening
What Else Our Lasers Can Do For You
Many changes occur as skin ages. Conditions that affect skin quality as we get older include enlarged pores, sun damage, redness, adult acne, veins, and age spots. In addition to tightening the skin, our cosmetic lasers can help address these other aesthetic issues.
Acne Treatment
The aerolase lasers provide excellent treatment for adult acne in patients of all ages. The heat produced during laser treatment can target and eliminate major factors that contribute to adult acne, including the presence of the p. acnes bacteria, excess sebum, and inflammation.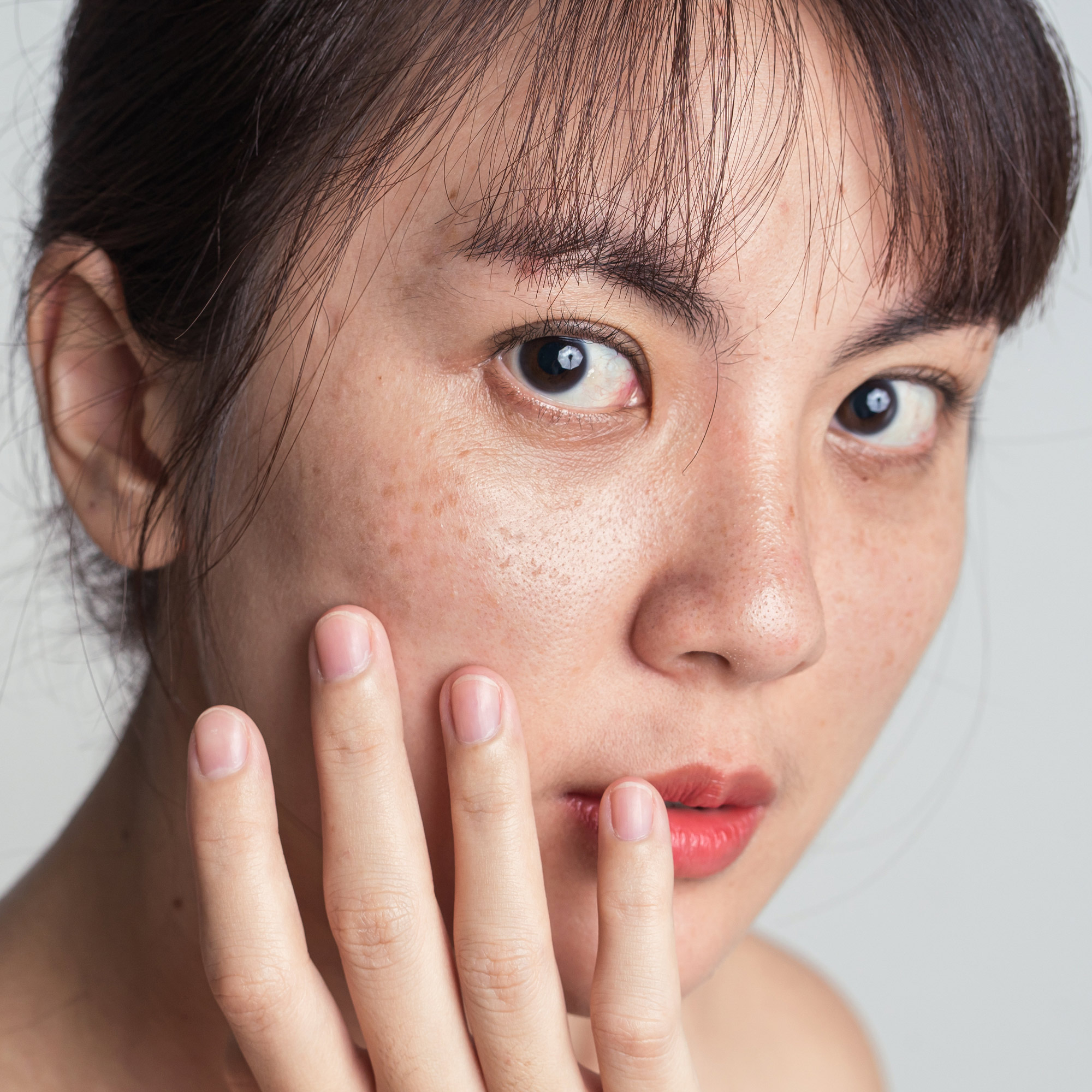 Melasma and Hyperpigmentation Treatment
Melasma and hyperpigmentation can negatively affect the look of your skin, interrupting its consistent tone and appearance. Thanks to the accuracy of the aerolase lasers at our practice, we can precisely target and disrupt melanin deposits that cause these issues to occur.
Rosacea, Redness, and Vein Treatment
The deep-penetrating energy of the aerolase lasers can suppress inflammation and coagulate broken capillaries, giving your skin a clean and refreshed appearance. Red skin and prominent veins can be targeted and treated in just a single 20-25 minute session.
Psoriasis Treatment
Psoriasis patients of all ages and skin types can count on aerolase lasers to help treat their condition, sometimes without the need for medications or topical steroids. The laser energy suppresses inflammation while coagulating blood vessels that feed plaque growth.
Dr. Yee and her staff are so helpful, and I have had multiple pleasant experiences in this clinic. Highly recommend!
View On Google
Great staff. Always a pleasant and welcoming experience!!
View On Google