Liposuction in the Little Rock, AR, area can cost anywhere from $1,600 to $13,000, not including operating room fees or anesthesia.
When it comes to plastic surgery, it pays to invest in the technique and skill of a surgeon known for providing outstanding results.
Dr. Suzanne Yee in Little Rock, AR, invites you to learn about the cost factors of liposuction and why so many choose her for treatment...
Find Your Liposuction Cost
The cost of liposuction varies from one geographic region to the next. Below is a tool that provides an estimated pricing range for surgeon's fees only, and does not include the operating room cost or anesthesia fees. The cost range reflects the fact that the extent of surgery, the techniques used, the surgeon's skill and experience, and other factors greatly influence the cost of this treatment.
A Closer Look
At Cost Factors
During your consultation at
our Little Rock, Arkansas, practice
, Dr. Yee will listen to your cosmetic goals and determine if you are a good candidate for liposuction. Based on your goals and budget,
Dr. Yee
will design a customized liposuction treatment plan to best achieve your desired results. The cost of your surgical treatment will depend on:
Treatment Areas
Liposuction can be used to remove fat from many areas of the body, such as the arms, breasts, abdomen, legs, and buttocks. Your final cost will depend on the size of the treatment area, the amount of fat to be removed, the locations of the treatment areas, and the number of areas being treated.
Type of Lipo
Dr. Yee performs three types of liposuction. Smart Lipo is a modern approach to liposuction that uses lasers to liquify fat prior to removal. She also offers the technologically advanced VASER Liposelection®, and is one of only 12 surgeons in the country specially trained to provideVASER Hi-Def.
Post-operative Supplies
Depending on your procedure, you may need to purchase medications, compression garments, gauzes, or other post-operative materials to improve your healing after surgery.
Facility Fees and Anesthesia
Plastic surgery always involves fees for the use of the surgical facility and anesthesia. When you choose Dr. Yee, facility fees will be lower than what you might pay at many other practices because she has her own accredited surgical suite, rather than having to perform surgery in a hospital or third-party facility.
See the Difference
The Results of Liposuction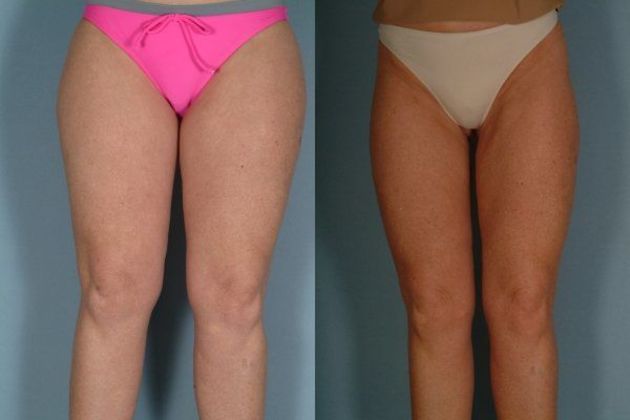 Want To Learn More About What Liposuction Can Cost?
Contact Our Little Rock Plastic Surgery Practice
Dr. Yee is a triple board-certified plastic surgeon who is known for giving her patients the beautiful and natural-looking cosmetic results they envision. She and our entire team in Little Rock, AR, believe everyone should be confident in their skin. To make liposuction and other treatments a fit for your budget, Dr. Yee's practice offers low-interest and interest-free financing options.
Contact our Little Rock, AR, practice to schedule your liposuction consultation:
Arkansas Chooses Dr. Yee
"I have absolutely loved getting my care from Dr. Yee."
...I have absolutely loved getting my care from Dr. Yee and her staff. I definitely plan to return in the future and would 100% recommend them to others.
View On Google
After visiting with Dr. Yee staff I knew immediately that I had found the right doctor. Dr. Yee listened to all my concerns and made me feel comfortable. Great staff and doctor! Thank you Dr. Yee for restoring my confidences!
View On Google
We Are Committed To Affordable Care
Dr. Yee and our team believe that financial concerns should not stand in the way of your personal cosmetic goals, which is why we offer CareCredit® financing for all our patients. This gives our patients the option to set up monthly low- or no-interest payments. Our Little Rock staff will be happy to explain this payment option during your liposuction consultation.
Is Liposuction
Worth the Cost?
It's hard to put a price on confidence, and our entire staff believes everyone should feel confident and happy in their skin. Your customized procedure can:
Eliminate Stubborn Fat
Sometimes exercise and diet are not enough to eliminate the fat pockets that hang around our stomach, breasts, thighs, and buttocks. Liposuction can safely and effectively get rid of that fat to improve your confidence.
Enhanced Contours
Liposuction surgery removes excess fat to reveal a more appealing contour. Depending on which procedure you and Dr. Yee choose, it can also smooth and firm your skin tissue to enhance your look.
Fast Results
Although your final results will not become fully apparent until post-surgical swelling subsides, you can expect noticeable results and a faster recovery than more invasive plastic surgery procedures involve.
Motivation to Maintain Your Health
After seeing the results of liposuction, many of our patients are encouraged to maintain a healthy, active lifestyle. By eating healthy and staying active, your liposuction results can last for many years.
Improve Self-esteem
By removing the stubborn fat and enhancing your overall appearance, you can significantly boost your self-esteem. Our Little Rock, Arkansas, practice believes this boost of confidence our patients feel is priceless.
Happy Patients Recommend Dr. Yee
"This is the place to get all your beauty maintenance!"
This is the place to get all your beauty maintenance! The staff is extremely welcoming and knowledge. Dr. Yee always does an amazing job with any procedures you need done. Bri and Rachel are great with fillers and Botox. I like a natural look and they achieve that. Thanks for being amazing. It's always a great experience.
View On Google
Dr. Yee is AMAZING. I have never had a bad experience at Dr. Yee's office. Her and her team are very professional. Every one there always made me feel very comfortable and answered every question that I had. Dr. Yee was always available to reach after my procedure which made me feel very good.
View On Google