Little Rock, Arkansas - Restylane, Collagen, and More
Many people are interested in rejuvenating and otherwise improving their appearance, but are also concerned about the perceived risks and potential complications of plastic surgery. Injectable dermal fillers offer an exciting treatment alternative to almost anyone who prefers not to undergo facelift or another facial surgery. At her practice, Dr. Suzanne Yee offers patients in the Little Rock, Arkansas area Restylane®, collagen, and many other "liquid facelift" options.
Dermal Fillers – Restylane and Collagen
RHA® Collection
Dr. Suzanne Yee's office is proud to be one of the first offices in Arkansas to offer the RHA® Collection of dermal fillers. RHA®s are designer fillers that gained popularity in Europe over the past several years, and made the way the U.S. this past year. These Hyaluronic Acid fillers are pliable, so the filler stays in tact, whereas other dermal fillers break down due to movement of the face. Areas most commonly treated are the cheeks, nasolabial folds, and lips. The RHA® Collection of dermal fillers replace lost volume, with a natural look and feel.
Restylane®
Restylane® is one of the most popular dermal fillers on the market today. It not only fills wrinkles, lines, and certain blemishes, but also moisturizes the skin. In addition to its value as a filler to treat wrinkles, lines, and blemishes, Restylane® is also a popular non-surgical lip augmentation option.
The active ingredient in Restylane® is hyaluronic acid, a chemical found naturally in the human body. Unlike some fillers, Restylane® is synthetically derived in a laboratory. As a result, allergic reactions are extremely uncommon, so almost any patient at Dr. Yee's Little Rock, Arkansas practice can have Restylane® injections.
As with other injectable products, perhaps the most important benefit of Restylane® is its convenience. The treatment process almost never takes more than an hour, and almost all patients describe it as painless. Patients are free to return to their normal schedules as soon as treatment is complete.
Restylane® benefits are visible almost immediately, though most patients see optimum results after the body has a few days to stabilize. The benefits typically last about six months, at which point most patients opt for a follow-up treatment at Dr. Yee's practice in Little Rock, Arkansas. Restylane® injections strike a good balance between long-lasting benefits and the flexibility that comes with a temporary treatment; if a patient decides that the product is not right for them, treatment can be discontinued and the skin will soon return to normal.
KATV GMAR: Dr. Suzanne Yee on the Liquid Facelift (1/29/13)
Radiesse®
Radiesse® is one of a new generation of dermal fillers containing calcium hydroxylapatite microspheres. This substance is synthetically produced but naturally present in the body, so no allergy test is required before treatment by Dr. Yee in Little Rock, Arkansas. Radiesse® functions in two ways: first, it fills wrinkles, lines, and other facial imperfections to smooth and plump the skin. Then, as the body absorbs the microspheres, they actually stimulate the skin to grow new collagen fibers. The resulting benefits can last for up to two years.
Perlane®
Perlane® is a hyaluronic acid filler. It is similar to Restylane®, but because Perlane® is more concentrated, it is more effective in treating deeper wrinkles and folds. In many cases, Dr. Yee can use Restylane® to maintain the results achieved by her Little Rock, Arkansas patients with an initial Perlane® treatment. Perlane® can sometimes be used to produce a temporary brow lift without the need for surgery, and it is also useful for facial augmentation (most commonly the lips and cheeks).
Sculptra®
Sculptra® contains polylactic acid, which has been used for decades in a variety of surgical products. It is a popular treatment for wrinkles and fine lines at Dr. Yee's practice in Little Rock, Arkansas. Sculptra® is also FDA-approved for the treatment of lipoatrophy, a form of facial wasting common in patients suffering from HIV and AIDS. The polylactic acid in Sculptra® promotes collagen growth in the skin, which takes effect over several weeks following treatment and lasts up to two years. It is synthetically produced, so no allergy testing is required prior to treatment.
Fat Transfer
Fat transfer is a unique treatment that offers dual benefits. Unwanted fat is removed from one area of the body (usually the thighs or buttocks) using liposuction and transplanted to the face. Many of Dr. Yee's patients feel that fat transfer offers significantly more natural-looking results when compared to facial implants.
JUVÉDERM™ Injectable Gel
JUVÉDERM™ Injectable Gel was approved by the FDA in 2006, making it one of the newest dermal fillers on the market today. Like Restylane®, JUVÉDERM™ Injectable Gel is a hyaluronic acid filler. However, it lasts longer than Restylane® due to an innovative "cross-linking" process that causes the gel to break down more slowly once it has been injected.
The "Liquid Facelift"
Many people are interested in having a facelift, but concerned about undergoing surgery. Fortunately, advances in non-invasive cosmetic medicine allow Dr. Yee to replicate many of the benefits of facelift surgery by using a combination of injectable products to treat wrinkles, sagging skin, and other symptoms of aging in a procedure known as the "liquid facelift." Safe and convenient, the liquid facelift produces remarkably natural-looking, elegant results. Perhaps the greatest benefit of the liquid facelift, however, is that it allows patients to see what cosmetic surgery can do for them without their making any permanent alterations to their appearance.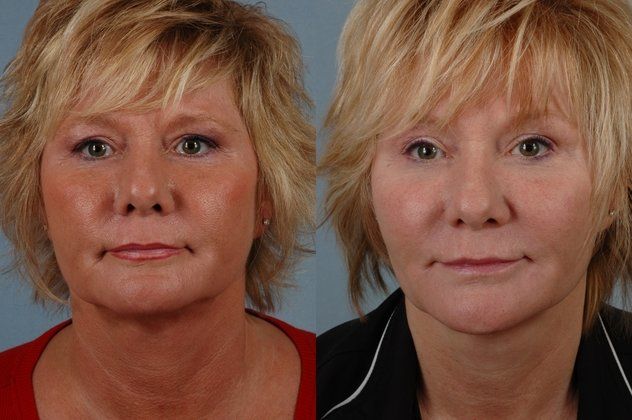 Contact Our Practice to Learn More
There are many dermal fillers available, and each one offers unique benefits. Visit Dr. Yee in Little Rock, Arkansas to discuss Restylane®, collagen, fat transfer, and other dermal fillers. Contact our practice to schedule a consultation today.