Restylane® Boosts Facial Volume and Reduces Signs of Aging
Dr. Suzanne Yee offers a wide range of injectable skin treatments to reduce signs of aging in the face. Restylane® is one of the most popular of these treatments. This hyaluronic acid-based gel softens wrinkles in all parts of the face, but especially around the mouth and nose. Restylane® can also subtly boost facial volume, particularly in the lips. At your initial consultation, Dr. Suzanne Yee will closely examine the quality of your skin and discuss your cosmetic goals. She can help you select the optimal treatment to achieve a youthful, radiant appearance. Contact our office today to set up your appointment with Dr. Yee.
What Is Restylane®?
Restylane® is a smooth gel made with hyaluronic acid (HA). HA carries nutrients from the blood stream to the cells. HA also retains water, boosting skin volume. The connective tissues, eyes, and joints contain higher levels of HA. As you age, your body will begin to produce less HA, and your skin will lose elasticity.
By injecting small amounts of Restylane® just under your skin, Dr. Yee can fill in lines and wrinkles and give a fuller, more youthful look to the treatment area. She will carefully administer the right amount of gel to ensure stunning, yet natural-looking results. Results typically last six months to a year. You can undergo subsequent touchup treatments to maintain the effects of this treatment.
Candidates for Restylane®
Restylane® may be right for you if:
You are at least 18 years old and wanting to treat lines and wrinkles, particularly "laugh lines" and other creases around the mouth and nose.
You are at least 21 years old and wanting fuller, plumper lips.
You have an animal allergy that makes all-synthetic Restylane® a safer choice for you than other dermal fillers.
You want to treat bags under your eyes, or add volume to the cheeks or a receding chin.
Restylane® is extremely safe, and most patients are suitable candidates for treatment. However, the filler may not be right of you if:
You are pregnant or breastfeeding
You have bacterial allergies or serious allergies to certain drugs.
At your consultation, Dr. Yee will determine your candidacy for this filler. If it is not suitable for you, she can recommend an alternative treatment, such as BOTOX® Cosmetic, Xeomin®, or another dermal filler.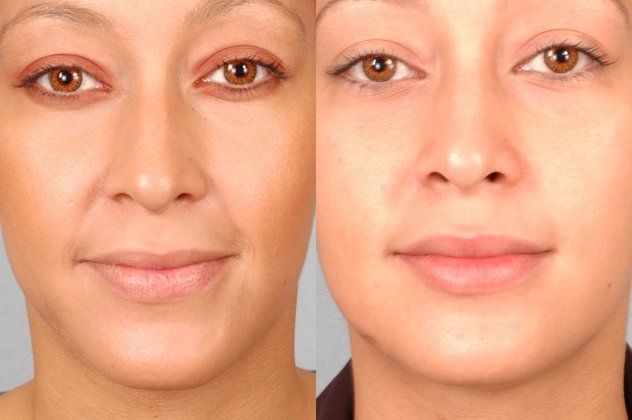 Benefits and Risks
The benefits of Restylane® include:
Reduced nasolabial folds and other facial creases
Fuller, more defined lips
Minimal discomfort and no downtime
An overall more youthful, enhanced appearance
Increased self-confidence
Restylane® carries very few risks. Temporary side effects may include minor swelling, discomfort, redness, and bruising. These side effects typically go away within a few weeks. A few patients may develop red nodules on the treatment site, which may take a few months to dissipate fully. The most serious risk of Restylane® is an allergic reaction, but Dr. Yee will check for these allergies before administering the treatment.
Contact Dr. Yee
To learn more about Restylane® and to find out if it is right for you, contact Dr. Suzanne Yee Cosmetic and Laser Surgery Center.