If you have a change of heart about a tattoo, Dr. Suzanne Yee, MD, F.A.C.S., offers laser tattoo removal at her Little Rock, AR, practice. The laser can safely break apart pigmented molecules so that your body can safely and gradually absorb them. Over time, the treatment can drastically reduce the appearance of your unwanted tattoo. Contact our office to schedule an appointment and find out if you are a candidate for laser tattoo removal.
Is Tattoo Removal Right for You?
If you are embarrassed by a tattoo, or if you feel that it no longer fits your personality, you may be a good candidate for laser tattoo removal. The treatment can also help if you have previously tried to remove your tattoo with other less advanced techniques. Laser tattoo removal is often most effective on dark-colored ink. However, thanks to advances in technology, laser tattoo removal can successfully reduce stubborn pigments, such as red and orange ink.
To qualify for tattoo removal, you should be in good health with no history of skin cancer or infection. If you have skin that scars easily, this treatment may not be a good option, as the resulting blemishes may be unsightly. For qualified patients, however, laser tattoo removal is safe and effective.
What to Expect during Laser Tattoo Removal
To reduce the appearance of your tattoo, you will need to undergo multiple treatment sessions. The exact number will depend on the size and color of your tattoo, as well as the way that you respond to the procedure. Before performing laser tattoo removal, Dr. Yee will apply a numbing gel or other topical anesthetic to the treatment area. Once you are comfortable, she will apply pulses of laser energy to your skin. The laser will break apart the ink molecules in the deeper layers of your skin without affecting the surrounding tissues. Immediately after laser tattoo removal, you may experience some slight redness and irritation. However, you should be able to return to work and your regular activities right away. You can control any irritation with ice packs and non-prescription pain medication.
The laser can break apart the ink molecules in the deeper layers of your skin without affecting the surrounding tissues.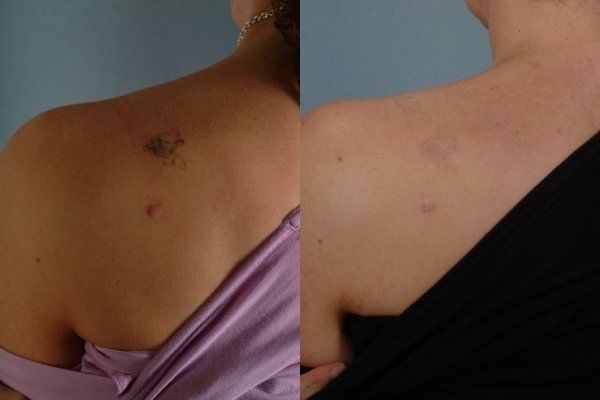 The Risks and Benefits of Tattoo Removal
Long-term side effects after laser tattoo removal are unlikely. However, in rare cases, risks can include infection, bleeding, scarring, allergic reactions, numbness, and hematoma. Rest assured that when you visit a qualified doctor like Dr. Yee, these already low risks can be virtually nonexistent. She has vast experience in helping patients achieve natural-looking results through nonsurgical skin rejuvenation treatments.
Your tattoo will start to fade gradually over the next few weeks. Of course, results will become more apparent the more sessions that you undergo. After your full round of treatments, your tattoo will be dramatically lighter. In some cases, it could be virtually unnoticeable.
Contact Our Office for an Evaluation
If you wish to eliminate a tattoo, Dr. Yee is here to help you achieve your goal. Contact us today to learn more about laser tattoo removal.